photo of Lunetta Miller, Long Island CORE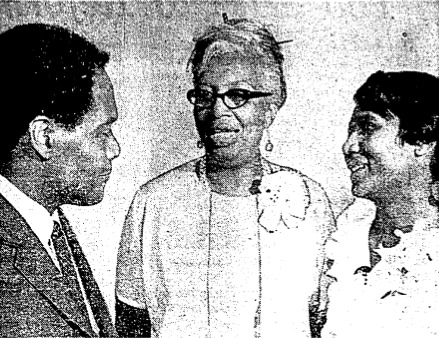 Dublin Core
Title
photo of Lunetta Miller, Long Island CORE
Subject
Long Island CORE members
Description
This is a 1968 photo of Long Island CORE member Lunetta Miller (center). She is standing between Lincoln Lynch and Hazel Dukes of the NAACP. She is an example of CORE's emphasis on turning 'local people' into activists.
She became a member of LI CORE during its demonstrations at Rockville Centre. At the time, she worked as a domestic servant. One out of every three Black women in Rockville Centre worked as domestic servants for nearby Whites. A member of a local tenants association, she was arrested during one of the demonstrations and became of officer of LI CORE under Mel Jackson. In the photo, she was the President of the Rockville Center Tenants Association.

Coverage
Long Island, 1968
Collection
Citation
"photo of Lunetta Miller, Long Island CORE ,"
corenyc.org
, accessed November 29, 2022,
http://www.corenyc.org/omeka/items/show/271
.