photo of Brooklyn CORE chairman Major Owens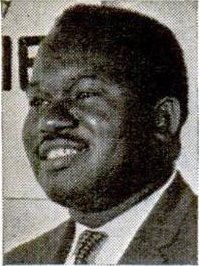 Dublin Core
Title
photo of Brooklyn CORE chairman Major Owens
Description
This is a photo of Brooklyn CORE chairman Major Owens. Originally from Tennessee, he got his B.A. from Morehouse College and received an M.S. degree from Atlanta University. When he came into Brooklyn CORE he was working as a librarian in the Brooklyn Public Library.

He became chairman after the Stall-In in 1964. He led the chapter's rent strike campaign during which hundreds of tenants became involved. Whereas some other CORE chapters did not always consider their rent strike campaigns as successful, Brooklyn CORE did.

Owens left the chapter as it turned Black power but he used his experience to become the founder and former director of a community corporation in Brooklyn, the Brownsville Community Council. Mayor Lindsay named it as "one of the most successful anti-poverty agencies in the city". Many of the city's community corporations were being run at the time throughout the city by former CORE members.

In 1968, he was named the commissioner for the Community Development Agency which was responsible for watching over all the other NYC community corporations.
Collection
Citation
"photo of Brooklyn CORE chairman Major Owens,"
corenyc.org
, accessed September 24, 2023,
http://www.corenyc.org/omeka/items/show/18
.