article by Joel Schwartz on NYC rent strikes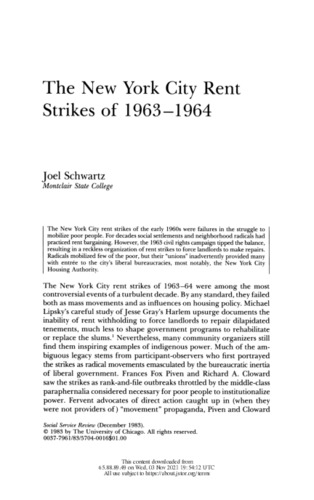 Dublin Core
Title
article by Joel Schwartz on NYC rent strikes
Description
This is an article by Joel Schwartz on the rent strikes in New York City in the early-mid 1960's. The article is significant because even though has become the most know rent strike activist Schwatrz argues the movement actually started with CORE specifically the New York University and Downtown CORE chapters.
Source
https://www-jstor-org.i.ezproxy.nypl.org/stable/30011682?seq=1#metadata_info_tab_contents
Publisher
University of Chicago Press
Coverage
New York City, 1963-64
Citation
Joel Schwartz, "article by Joel Schwartz on NYC rent strikes,"
corenyc.org
, accessed December 6, 2023,
http://www.corenyc.org/omeka/items/show/366
.