photo of UFT President Al Shanker with Bayard Rustin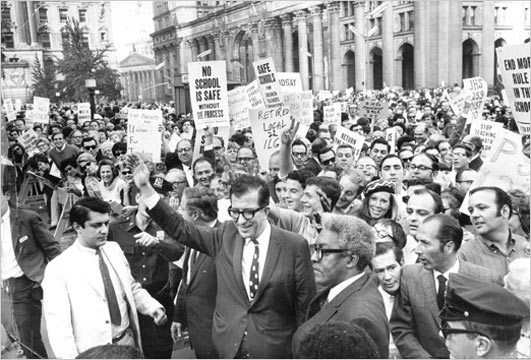 Dublin Core
Title
photo of UFT President Al Shanker with Bayard Rustin
Description
This is a photo of Al Shanker (White, glasses, coat and tie, center bottom, hand raised) with Bayard Rustin (Black, center bottom). The photo speaks to not just his role as the president of the United Federation of Teachers (UFT)
but the fact that Shanker had a history with CORE, despite his role in the Ocean Hill-Brownsville controversy, his racist actions during the 1968 teachers' strikes and his public feuds with several CORE chapters, most especially Brooklyn CORE, Harlem CORE and Queens CORE.

According to the UFT's website and his biographer, Richard D. Kahlenberg, Shanker was once a member of CORE. He was a member of his college chapter at the University of Illinois at Champaign-Urbana. Shanker was also personally involved in CORE's Woolworth's protests and CORE's efforts during the Mississippi Freedom Summer and its predecessor, Queens College CORE's Student Help Project especially in Prince Edward County, Virginia. He also worked with former CORE members Velma Hill, Alan Gartner, Connie Banks and Hamilton Banks to bring para-professionals into the UFT.

While Gartner described Shanker's actions during the 1968 teacher's strikes as 'fucking racist', he and Hill acknowledged that Shanker also sought to increase the number of Blacks and Latinos in the UFT which at the time was overwhelmingly White and Jewish.

Source
http://pmct.org/articles/1213/shanker/index.html
Collection
Citation
"photo of UFT President Al Shanker with Bayard Rustin,"
corenyc.org
, accessed December 10, 2023,
http://www.corenyc.org/omeka/items/show/309
.