photo of Brookhaven CORE chairman Clayton Chesson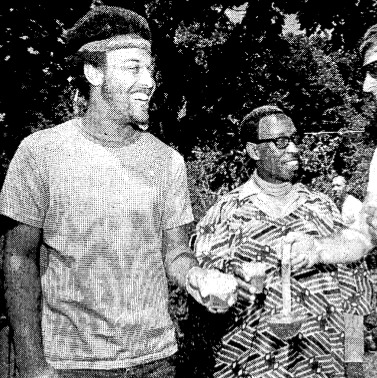 Dublin Core
Title
photo of Brookhaven CORE chairman Clayton Chesson
Subject
members of Brookhaven CORE
Description
This is 1969 photo of Clayton Chesson (right, glasses), founder of Brookhaven CORE and its first chairman. Chesson was head of the Patchogue NAACP before he came to CORE. He served as a director of and then chairman of the board at the Farm Workers Service Center, a program which provided legal and medical services to migrants in Riverhead and helped them to unionize.

Standing next to him is Arthur Mitchell (right, headband), a coordinator for the Center. Mitchell was rumored to be connected to the Black Panther Party although he denied being a member. The Center, however was said to be an outpost of Black Panther Party.


Rights
photo by Dick Benjamin
Coverage
Long Island, 1969
Citation
Dick Benjamin, "photo of Brookhaven CORE chairman Clayton Chesson,"
corenyc.org
, accessed September 25, 2022,
http://www.corenyc.org/omeka/items/show/262
.