poster for Brooklyn College CORE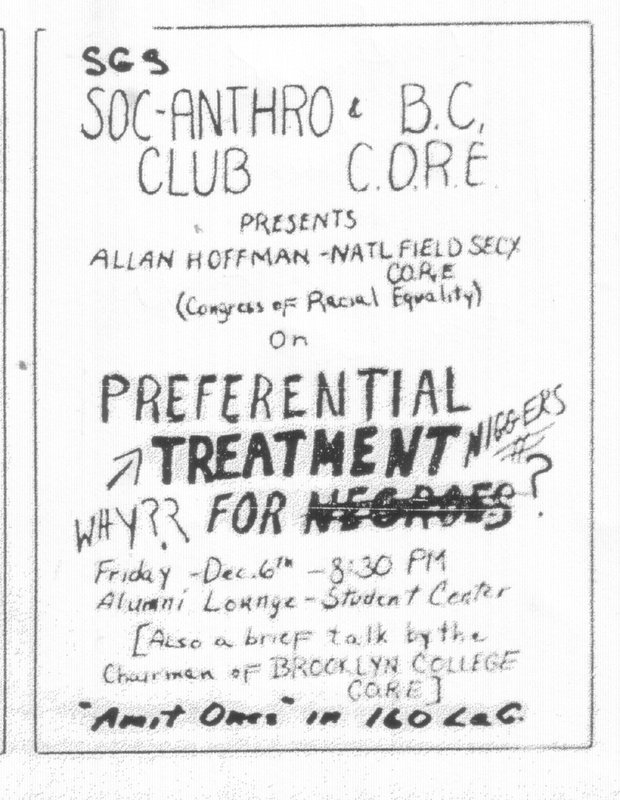 Dublin Core
Title
poster for Brooklyn College CORE
Description

This is a 1963 poster for the Brooklyn College CORE chapter that has been defaced. The word 'negroes' was scratched out and replaced with 'niggers'. It demonstrates that even in the City University of New York which had 'developed a reputation as a bastion of liberalism', these types of racist incidents were not uncommon. Brooklyn College like most of CUNY at this time was mostly White.
The image comes from an editorial by Alan Friedman, 'The Complacent Society', in the Brooklyn College student newspaper.

Creator
Brooklyn College CORE
Source
'The Complacent Society' by Alan Friedman
Publisher
Brooklyn College
Coverage
Brooklyn, New York, Dec. 20, 1963
Citation
Brooklyn College CORE, "poster for Brooklyn College CORE,"
corenyc.org
, accessed November 29, 2022,
http://www.corenyc.org/omeka/items/show/176
.