Browse Items (118 total)
This is a photo of Long Island CORE member Billy Geller. In the photo he is a freshman at Dartmouth College in 1967. At Dartmouth, he became a member of SDS but lived with members of the school's Afro-American Society. He was also arrested for…
This is a 1965 photo of Dr. Martin Luther King with a group of Long Island CORE members. He is addressing a rally in the Lakeview area of Long Island.
The members of Long Island CORE are unidentified at this time.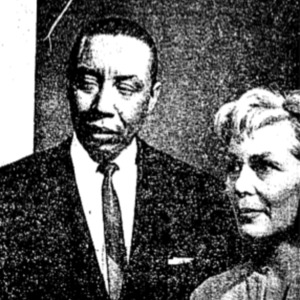 This is a 1966 photo of LI CORE member Gloria Weinberg. She is standing next to Floyd Mckissick at a party thrown at her home to congratulate him on becoming national director of CORE that year. Mrs. Weinberg is notable because she was not only…
This is a 1973 photo of Suffolk County CORE chairman Irwin Quintyne.
A World War II Navy veteran, he and his wife, Delores, originally moved from the projects in Harlem to North Amityville, Long Island in 1961. She was the first chairman of Suffolk…
This is a copy of a 1947 CORE letter sent out to staff. It is included here because it demonstrates:
1. That CORE was headquartered in New York City and had an office in Harlem as early as 1947. CORE moved to NYC because its first national leader,…
This is a November 12, 1960 photo of Norm HIll (left) taken at the Chicago Debs Day Dinner at the Midland Hotel. The event is an annual gathering of 'Chicago's labor, Negro and liberal community'.
The older man on the right hand side is…
This is the arrest photo for Brooklyn CORE member Al Gordon as a Freedom Rider. He also participated in the Route 40 Freedom Rides.

A Holocaust survivor, he was working as a history teacher in a Brooklyn public school at the time of his arrest.…
This is the 1961 arrest photo for Claire Toombs as a Freedom Rider in Jackson, Mississippi. She also participated in the Route 40 Freedom Rides.

Originally from Maryland, Toombs and her sister became members of Brooklyn CORE. Claire was also…
This is the arrest photo for CORE member Elizabeth Adler as a Freedom Rider. She went on to become a member of New York CORE and a founding member of East River CORE. She is one of the seven arrested at East River CORE's Triborough Bridge sit in.

This is the 1961 arrest photo for CORE member Gloria Bouknight as a Freedom Rider in Jackson, Mississippi. Originally from the South, she lived in New York after the rides and was roommates with Sheila Michaels. She served as chair of the membership…